SEN & Inclusion Provision
Welcome to the SEND page of our website. This page will give you more information about how we approach support of children who may have special educational needs and disabilities at our school and what you can do if you have any concerns about your child. You can also find useful links on this page which will direct you to other websites you may find useful, including the Nottinghamshire Local Offer web site.
Accessing help at school
At Carr Hill Primary and Nursery School we are committed to supporting every single child to achieve their potential. Central to our ethos is the belief that this includes social, emotional and moral development as well as academic achievement, and as such we support all pupils to feel welcome and included at our school.
Questions to ask your child's school about support for SEN
Some parents find it difficult to get information from school about their child's special needs and what school is doing to support their child. This could be because they don't know who to ask, or what kind of things to ask.
The best place to start is with the class teacher, since they are responsible for delivering the day-to-day teaching for your child. For children with more complex needs and high levels of support in school, the school's Special Educational Needs Co-ordinator (SENCO) might need to be part of the conversation.
These questions might help you to find out what you want to know. Some will not apply in your case, but there may be other questions you would like to ask instead.
What opportunities exist already for me to ask about my child's needs and support? Can I get this information by telephone or by email if necessary?
How do I know that all staff involved with my child understand his/her needs?
Can I have contact details for a key person involved with the provision for my child? (This is the person you would contact first if you have a query.)
What can I expect once my child is placed in the SEN Support category?
Has my child had, or are they due to have, any additional screening or assessment?
What training has school or setting had to help them understand the types of need that my child might have? Is any further training planned?
Does the school/setting have any support from a specialist?
Are there strategies in place for my child? What are they?
Are there outcomes designed for my child? What are they?
What is the school's (or the setting's) standard offer?
How is my child's progress tracked and monitored?

Where can I find impartial and confidential information, advice and support?

What is the Local Offer?
"

Pupils with special educational needs and/or disabilities (SEND) are well supported. The special educational needs coordinator (SENCo) ensures that pupils with SEND are quickly identified. These pupils receive well-tailored support.

"
— Ofsted 2022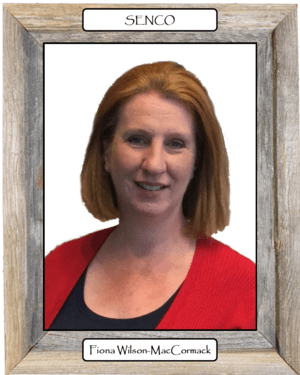 If you already have a child at the school, or you are interested in your child attending our school, and you are concerned about any aspect of their progress or inclusion please do not hesitate to contact the SEND Coordinator, Fiona Wilson-MacCormack.